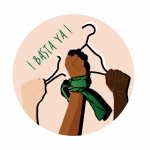 ¡BASTA YA! – a documentary about the collective struggle for reproductive rights in Latin America 
We are Julia and Marion, two 24-years-old feminists. From September to December 2020, we will travel to six countries in Latin America (Brasil, Uruguay, Argentina, Chili, El Salvador and Mexico), to meet the men and women that fight for the right to abortion, especially young women. Throughout diverse medium (papers, podcasts, documentaries and reports), we want to shed light on there actions and help making their voices and messages heard. Our goal is to sensitize the public and encourage the emergence of a global dynamic in favor of reproductive rights and a feminist french diplomacy taking into account the needs and demands of the people involved.
We are pleased to contribute to GGI's "South America" department with the work we carried out as part of our research for ¡BASTA YA!.
For more information, please visit ¡BASTA YA! website and the affiliated Instagram and Facebook pages. You can also contact us by e-mail: bastaya.documentaire@gmail.com.