Temps de lecture :
< 1
minute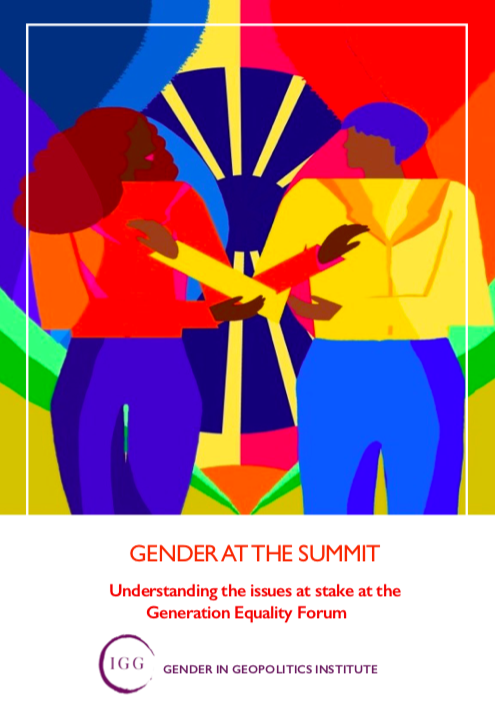 The Gender in Geopolitics Institute is pleased to present its latest report entitled "Gender at the Summit – Understanding the issues of the Generation Equality Forum".
More than two decades after the historic summit of the World Conference on Women in Beijing in 1995 and despite its ambitious agenda, gender equality is not a reality for any country in the world. Women's human rights are uncertain and under attack by conservative political and religious movements. In this context, to which is added the health crisis that has exacerbated gender inequalities, the Equality Generation Forum, co-chaired by France and Mexico under the aegis of UN Women, set itself the mission of (re)mobilising politicians, the private and public sectors, philanthropy and civil society in favour of feminist recovery.
In addition to explaining the context of the EGF and its original format, this report analyses the financial commitments made during the Forum by the multiple stakeholders. Nearly $40 billion was raised in those few days, but will it meet the concrete needs of gender equality? What are the realities of the gaps in commitments between coalitions and different actors? How can accountability for these commitments be ensured when civil society organisations are themselves responsible for the implementation of the promises made? In short, what will be the legacy of the Generation Equality Forum?
To read the report: here.
To cite this report: Sarah Aissaoui, Sofia Azaiez, Eugénie Boivin Jasinski, Silvia Costante and Juliette Stefano, edited by Alice Apostoly and Déborah Rouach, "Gender at the summit – Understanding the issues at stake at the Generation Equality Forum", 09.06.2022, Gender in Geopolitics Institute.