Temps de lecture :
5
minutes
Will the gender gap in the U.S. cost Donald Trump a win in 2020 ?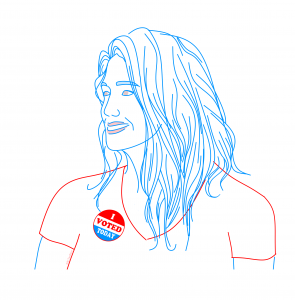 Illustrator Nato Tardieu
29.03.2020
Written by Alice Apostoly
Translated by Axelle Apostoly
Presidential campaign is just around the corner, and questions remain about women's voter appeal. In October 2020, we would expect a record disparity between women and men votes.
There may be a number of reasons for this : the MeToo movement, the PinkWave that hit the American legislative branche and Donald Trump's misogyny. But it's important to point out that this gender gap would be accentuated mostly by white women's suffrage: in 2016, one in two white women voted for Trump.
A record vote gap
There always been a difference in political tendencies between men and women : the latter are more likely to vote for the Democratic Party, ever since Ronald Reagan. His term undermined newly acquired women's rights, as well as the right to abortion – in an effort to connect with Republican Christians.
This shift to the left after Ronald Reagan could happen again due to Donald Trump's hectic term in office, and his positions often condemned by feminist and LGBTQI+ associations.
The gender voting gap is increasing: for the presidential election in 2016, it was at 25 points. But we can expect that number to go up to 30 for the election of 2020, especially if Joe Biden, the favorite among Democrats, is the candidate against Donald Trump. This phenomenon is part of an escalating polarization in the American society between : democrats and republicans, educated and uneducated, young and aged, people living in urban and rural areas.
Tableau : If Joe Biden is the democratic nominee & Donald Trump is the republican nominee, who would you vote for ?

CNN/SSRS Poll — December 12, 2019 to December 15, 2019
A strong and mobilized opposition
This gap can be explained by various factors. A poll conducted in 2019 by Gallup shows an evolution in women's satisfaction with their status within the society. Only 46% of American women are contented with the way that they are treated.
This rate is in constant decline, particularly since 2016, and echoes the media coverage of successive cases relating to violence against women such as the Kavanaugh case (the appointment of the judge Brett Kavanaugh to the Supreme Court while accused of several sexual assaults), the Weinstein case (one of the biggest Hollywood producers accused of sexual assault by more than twenty actresses) or even the election of Donald Trump.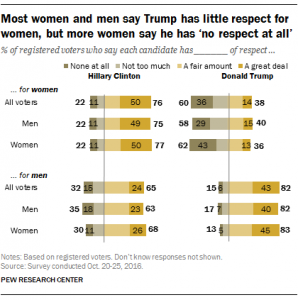 The latter has been marked by various scandals regarding his attitude towards women, including the recording of conversations in which he makes insulting and misogynistic remarks and the twenty accusations of harassment and sexual assault that have been heaping on him. Hundreds of thousands of people marched against him the day after his inauguration. Followed by an intense activism that will punctuate his mandate: the #MeToo, #EverydaySexism and #YesAllWomen campaigns, the organization of Women Marches, SlutWalks and other mobilizations for women's rights.
This mass mobilization is not to be outdone, as the positions of the President – as well as those of his political entourage – continue to provoke the anger of American women. As early as January 2017, the Presidential Cabinet signed a decree prohibiting the funding of international non-governmental organizations that support abortion, and in April the subsequent cancellation of public funding for Family Planning – which allows women to receive care for their sexual and reproductive health. The Trump government also signed numerous documents that threaten equal pay and women's safety on campus, campus rape being a scourge in the United States. Therefore, companies are no longer required to make public the wage gap between their employees and universities must rely on more demanding evidence than under the Obama administration to prove that a student is guilty of sexual assault.
Donald Trump is the first sitting president to inaugurate the March for Life, a march against abortion. He pleases his electorate, which is solid although dissenting, and consolidates his Democratic opposition, which sees support for these pro-life groups as yet another attack on women.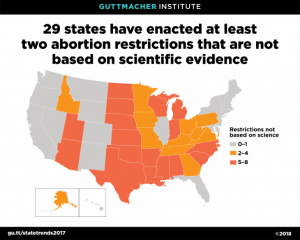 « The 53% Problem »
However, this mobilization is not a united front that will overthrow Trump. In the 2016 elections, he not only had the support of the majority of American men, but also that of white American women with 53 per cent of the vote. This result highlighted the racial tensions between white women and African-American & Latin-American women, who overwhelmingly voted for Hillary Clinton in 2016.
Despite conventions organized across the country by President Donald Trump, such as "Women for Trump", this has not prevented him from losing popularity among his so-called moderate female electorate who supported him in 2016, as well as graduate and single women.
White working-class women – who make up one-fifth of Donald Trump's electorate – are also beginning to distance themselves from the President. In the strongholds of the American white working class (Iowa, Wisconsin and Minnesota), women seem to prefer an independent candidate to a party-affiliated candidate. In addition, people living in these industrial regions feel neglected by the President and face many challenges since 2016, such as the loss of nearly 25,000 manufacturing jobs following the restructuring and closure of factories of multinational groups due to "uncertainty about foreign trade". This uncertainty is directly correlated to the trade war with China.
Who to target ?
Gaining the support of the female electorate is one of the crucial issues in these upcoming elections: not only do women make up more than half of the population, but they also constitute the majority of voters. Indeed, women in the U.S. are more likely to vote than men. With Black and Latin American women accounting for less than 20 per cent of the Republican Party's voting intentions, white women appear to be the main target of Donald Trump's campaign.


Source: Center for American Women and Politics, Eagleton Institute of Politics, Rutgers University, "Gender Differences in Voter Turnout," 2019.
The white women's vote is the most targeted because it is the most divided. African-American women are a strong opposition to Republicans, with nearly 4 per cent voting for Donald Trump in 2016 and more than 94 per cent dissatisfied with his term. African-American women tend to care about the well-being of the community: 80 per cent of African-American mothers maintain their families, care for family members, and are the most likely to face poverty[1]According to a survey conducted in 2017 by Women's Policy Reasearch. This minority of voices allocated to Donald Trump is found among women of all ethnic groups in the United States.
Sources
COSTE Françoise, "Women, Ladies, Girls, Gals…": Ronald Reagan and the Evolution of Gender Roles in the United States", 02nd March 2016, available at: https://journals.openedition.org/miranda/8602
ENTEN Harry, "A historic gender gap is possible in 2020", 29th December 2019, CNN, available at: https://edition.cnn.com/2019/12/27/politics/gender-gap-2020-election/index.html
BRENAN Megan, « Record-Low 46% of Women Pleased With Society's Treatment", 17th January 2019, Gallup, available at : https://news.gallup.com/poll/246056/record-low-women-pleased-society-treatment.aspx
COASTON Jane, "The gender gap in black views on Trump, explained", 9th March 2020, VOX, available at: https://www.vox.com/2020/3/9/21151095/black-women-trump-gop-conservatism-gap-2020
HAIS Michael & WINOGRAD Morley," The future is female: How the growing political power of women will remake American politics", 19th February 2020, Brookings, available at : https://www.brookings.edu/blog/fixgov/2020/02/19/the-future-is-female-how-the-growing-political-power-of-women-will-remake-american-politics/
KILEY Jocelyn, "Majorities of women, men say Trump has little or no respect for women", 4th November 2016, Pew Research Center, available at : https://www.pewresearch.org/fact-tank/2016/11/04/trump-respect-for-women/
CATANESE David, "'The kind of voter Trump can't lose:' Working-class white women drift toward Democrats", 5th November 2019, Impact 2020 , available at: https://www.mcclatchydc.com/news/politics-government/election/article236982463.html
Center for American Women and Politics, "Gender differences in voter turnout", 16th September 2019, available at: https://cawp.rutgers.edu/sites/default/files/resources/genderdiff.pdf
To quote this article : Apostoly Alice, "Will the gender gap in the U.S. cost Donald Trump a win in 2020 ?", 29.03.2020, Gender in Geopolitics Institute.
References

↑

1
According to a survey conducted in 2017 by Women's Policy Reasearch